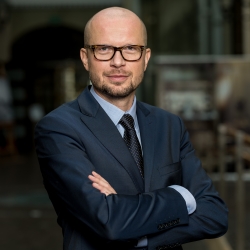 Jakub Mazur has been Deputy Mayor of Wrocław since December 2018 and is responsible for supervising the Department of City Development and Strategy, and representing the City in international affairs.
Under his portfolio as Deputy Mayor, Mazur is responsible for such things as urban planning and land use plans, architecture, construction administration, city aesthetics, monument preservation, economic development, sustainable development, and energy.
Mazur has over 20 years of corporate and business experience working as a business consultant, and holds two master's degrees from the University of Wrocław, alongside an executive MBA from Apsley Business School London (United Kingdom).
Mazur is also President of METREX, and his areas of expertise include strategy, branding, new business development, IPO, IT, e-commerce, and energy.